Microsoft 365 has many different flavors and suites, making it difficult to find the right fit for your modern workplace. The expert at MC3 Cloud are here to help you.
Microsoft 365 Spreadsheet
To assist partners in selecting the optimal combination, Microsoft has developed a Modern Work Plan Comparison tool. This tool presents various subscription options tailored to the requirements of information workers, frontline workers, and small to medium businesses. To access comprehensive information, simply download the latest version from here.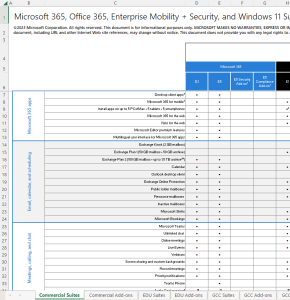 Microsoft 365 Plan Chooser
If you find spreadsheets overwhelming, why not give the Microsoft 365 plan chooser a try? This interactive webpage will ask you a series of six brief questions about:
The size of your company
Your work style
Collaboration preferences
Information protection requirements
Device management needs
Threat protection concerns
Based on your responses, it will provide tailored recommendations that align with your specific requirements. For instance, if you are:
A small business operating from an office
In need of email and file accessibility from anywhere
Not dealing with sensitive information or requiring remote device wiping
Not particularly worried about advanced cyber threats (although it's important for everyone to be cautious!)
In such a scenario, Microsoft 365 Business Standard is suggested as the ideal suite for you.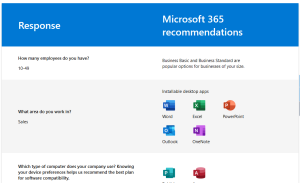 Feature Matrix
If you're interested in comparing the feature variations among different versions of the same suite (such as Microsoft 365 Business Basic, Standard, and Premium) or if you're curious about the distinctions between Office 365 Enterprise E3 and Microsoft 365 Enterprise E3, you can utilize the Feature Matrix.
The Feature Matrix allows you to choose the suites you wish to compare and displays their features side by side, enabling you to easily understand what you will receive – or won't receive – with each option.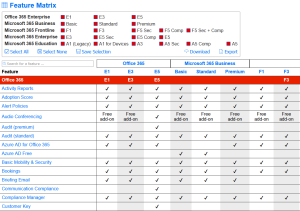 If conducting this research seems like a daunting task, you can always bypass the effort and reach out to the knowledgeable sales team at MC3 cloud. They are readily available to assist you in maximizing the benefits of your Microsoft subscriptions. So, don't hesitate to seek their guidance and make the most informed decisions.